Roof Installation in Beach City, Texas
Just as a biker's helmet protects his head from wind, rain and flying objects, your roof shields your home from all weather conditions. A proper Beach City, Texas roof installation not only keeps you dry and safe, but it also adds to your home's curb appeal. Installing a new roof yields good returns on investment because your roof is one of the first things a potential buyer sees. If you show you take care of your roof, it is reasonable to assume other aspects of the house are also in good repair. According to a recent survey by Remodeling Magazine, a new roof adds up to $12,000 to a home's resale value. Beach City roofing contractor, Trinity Roofing & Builders, has been installing, repairing and replacing roofs since 1988. If you're thinking of installing a new roof or you need roof repairs, give us a call for a free estimate.
---
Call for a FREE Quote
---
$750 OFF
New Roofs
expires 12/31/2023
$699 OFF
Re-Roofs
expires 12/31/2023
Will Repairs Do, or Do You Need a Roof Replacement?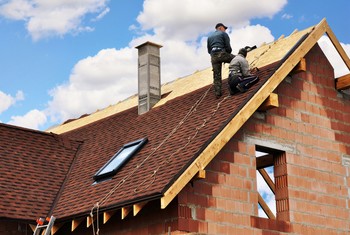 Worn out shingles around chimneys, skylights, and other roof openings are key indicators that roof repairs are needed. When you require multiple repairs on an older roof in Beach City, new roof installation may actually be a better investment. When water penetrates these worn and gaping spaces on roofs, it leaks into your home causing damage to wood frames. If your roof hasn't reached its expected end of life and its missing shingles are few, you should get roof repairs done as soon as possible before more serious issues develop.
Unfortunately, sometimes when damage becomes too extensive, repairing parts of your roof just isn't enough and it is time for a roof replacement. If you can see that your roof has suffered extensive damage, it may be quite obvious that repairs won't suffice. When you need a new roof installed on your Beach City home, be sure to call the experts at Trinity Roofing & Builders.
Benefits of a New Roof Installation in Beach City
There are many reasons why roof replacements are popular home improvement projects for home sellers or for folks how intent to enjoy their home for many more years. Today's high-tech roofing materials make new roofs more energy-efficient and durable than ones that were installed 30 years ago. Lower utility bills are a plus whether you plan to stay in your home or sell it. New Beach City roofs that are made with higher quality materials come with longer warranties; this is a prime selling point for new home buyers. Since new shingles come in a variety of colors, styles, and textures, installing a new roof gives you an opportunity to update the entire look of your home. If you're ready to refresh your home's curb appeal, give us a call for a free consultation.
Reasons to Hire Trinity Roofing & Builders for Beach City Roof Installation and Repairs
Working on roofs is dangerous. When repairing or replacing your Beach City roof, you will need to climb a ladder with your tools and materials and walk carefully over a sloped roof that could be slippery. Without proper training and safety equipment, you could injure yourself and others. Trinity Roofing & Builders's Beach City roofing specialists are trained, certified and insured to deliver quality roofing solutions that meet industry safety guidelines and local building codes. We have a 35 years track record of customer satisfaction and would love to help you with your next roofing project. Give us a call to find out more about our services.
---
Call for FREE Roof Installation Quote
Dial Area Code first please.
---
WHAT CUSTOMERS ARE SAYING:
5★★★★★ - "Trinity did excellent work and settled my insurance claim. They are a very honest company, and easy to deal with. I got more money for my rotted decking."

Nick in Galveston, TX

2018-04-23

5★★★★★ - "I am a widow and I live on a fixed income. Trinity got my insurance claim approved after it was denied the first time by myself. They are a very professional company and do quality work. They gave me a $850.00 discount."

B. Smith in Houston, TX

5★★★★★ - "My roof claim was denied. I hired Trinity and they got my insurance claim paid. They also discounted the re-roof $850.00"

D. Allan in Galveston, TX

5★★★★★ - "Trinity does a fine job and knows how to get an insurance claim paid. They gave me a $500.00 discount."

Anonymous

2017-05-03

5★★★★★ - "5★★★★★ - "Trinity is honest and has integrity. They do quality work. They are very experienced in getting a insurance claim paid and supplemental billing too. My wife and I are pleased." 2017-05-03"

Anonymous

2017-05-03

5★★★★★ - "Thank You SO MUCH for all of your hard work, time & effort dealing with the insurance company. I really appreciate it!!!!"

Penny in San Antonio, Texas

2013-04-11

5★★★★★ - "Thanks to Monica meeting w/the Adjustors, I am gettin a new roof, everything repainted & fixed, a new storage shed, new commercial carpet installed in 3 rooms, and items too numerous to name! It pays to go with TRINITY Roofing & Remodeling!"

Oralia Galaviz Garcia

2013-04-11

5★★★★★ - "Thank you so much for all the great work your company has done on my home after the storm and water damaged it. The roof and gutters look great and the inside work is wonderful. TRINITY has gone well beyond the call of duty to work around my work schedule to get the inside work done so I did not have to take off any work. I, my friends, and co-workers are in need of homebuilding/repairs. Thank you all for everything! Also, want to thank you both for helping work with the insurance company to get all repairs cover at replacement costs. I will recommend your company too."

Cynthia Powell in Katy, Texas

2013-04-11

5★★★★★ - "About a year ago I my electric bill was the highest I've seen in 10 years. My living room was always hot and fan's had to be used to get the cool air from the back of the house to the front and hopefully my A/C would stop running for a little while so my electric bill wouldn't keep going up. I needed a whole new system including ductwork. I did my due diligence and started getting quotes and the news just seemed to be bad. This was an expensive job. I decided for one more quote but not knowing who to call I passed the office on the way to church one Sunday morning. About a week later I was sitting in my kitchen with a very nice gentleman, Ken B., who sat with me patiently and answered all my questions. I was shocked at the quote he offered. I thought he was joking or leaving out a major part. A week later my A/C was being installed, everyone I had in my house was professional and courteous. The true test was when my next electric bill arrived. It dropped in half and it wasn't even a full month. I run my A/C at a lower temperature now than I ever have and my bill has not gone over $100 this whole year. I have gladly recommended Ken B. to all my friends & family when they need AC/Heating work on their house." Diane Neveling, Halliburton Energy Services in Houston, TX"

Anonymous, Roofing in Houston, TX

2013-04-11

5★★★★★ - "Thanks for handled my replace damaged roof claims process at timely base. I was shopping around with few roof companies, but your hard work, reasonable pricing, and professional attitude impressed me, I am glad I made a right choice to use you and your team to replace my roof." Aiping DeGrassi"

Anonymous in Houston, TX

2013-04-11
---
Call for FREE Roof Installation Quote
Dial Area Code first please.
---